4/11/21 - As the ebb and flow of the COVID situation continues with the vaccination effort progressing and the number of new COVID cases rising again, job-one here remains staying healthy and available to move ahead with the earliest opportunities to get model production back to some sense of normalcy. There is talk and planning again for the return of train shows as early as this weekend, during the coming summer and heading into fall. The participation of Kohs & Company will depend on a reasonable evaluation of the circumstances present as each show date approaches, but I reasonably do not expect to participate before this coming fall at the earliest all factors considered, despite the promise of increased vaccinations country wide.
On the subject of production, I've heard during virtual events and read Online the ruminations of many individuals questioning the availability of future new models, particularly brass......these are typically people with little or no direct experience in the process of producing models, brass or otherwise so are they correct? I won't pretend to know what the future holds for the numerous suppliers in the hobby, especially with many of them remaining silent leading up to and throughout the COVID situation. I can tell you that the situation has been obviously difficult for everyone and for most businesses including the overseas producers who are now even fewer in number then a year ago. The expectation and plan for Kohs & Company is to return to producing the absolute best models we can and at an even higher level of quality, detail and performance than ever before. Communications with our friends and associates overseas have been and remain ongoing as we all try to work through the challenges presented. In terms of new projects, the hope has been realized that two capable builders are willing to share the risk of project development from afar as I do everything possible to gain direct in-person access.
What I do know is that had my previous efforts to foster mutual cooperation among a hand-full of importers worked long term, producers would be in a much stronger position with better bargaining power among suppliers and the hobby in general would also be stronger with a more predictable supply. Had we an organized collective of importers that builders could rely on, builders too would be in a healthier position going forward. Many people and I dare say most, could never understand why I actively promoted and aided the work of other importers going as far back as Henry Bultmann and his Car & Locomotive Shop efforts which started at the same time as Kohs & Company.
My intent was not unique, even though I was not aware of the Associated 'O' Scale (ad below) efforts, the thinking of those involved was much the same. Invested individuals and companies working together to build a hobby community while still pursuing their individual aspirations and goals. The ad includes some long-lasting names which is a message in itself and it appeared in this instance in Model Railroader magazine, date uncertain.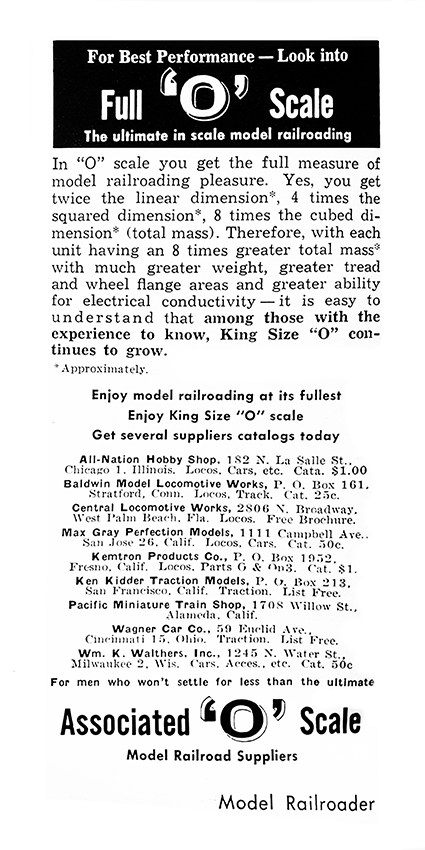 Efforts like those of Associated 'O' Scale and mine have given way to partisan bickering often fostered by companies or individuals closely associated with them in an effort to gain an advantage when unable to compete product to product. As a result, it should now be obvious that we have all lost something!
In short, with all of this said, from my perspective the best is yet to come from Kohs & Company and I and everyone associated are working with that mutual intent.
3/08/21 - Since the 2/28/21 post I have had a couple of people ask to know who the 'offender' resellers are which misses the point or intention of my post. Rather than calling out specific resellers and starting a social media war, the intent is to offer assistance in successfully purchasing Kohs & Company models from whoever the seller may be, this is something I have done routinely when asked. Quite frankly, there are some buyers just as bad as some resellers, individuals that seek out 'deals' based solely on low prices and then cry when the model they receive is not the pristine gem they were hoping for among other practices. Establishing purchase parameters up front in dealing for a model makes it easy for everyone, particularly what the return policies are if there has been some misrepresentation about the item being purchased. For example, if a model will not operate or is functionally deficient upon receipt and the seller has indicated that the model will be or has been track tested, what is the established recourse? Make it simple and request the policy in writing prior to payment. Not wanting to be a policing agency for model resellers and buyers, my only interest is hearing from happy new owners of Kohs models and avoiding the hard feelings and disappointment when I am contacted to make bad situation 'right' and I cannot accommodate the request.
2/28/21 - The resale of Kohs & Company models is always a serious discussion with typically a good deal of money involved in the sale and and resulting purchase. I have written in the past about problems with some resellers delivering models to customers that were functionally damaged falsely claiming they were rail tested prior to shipping, the result being me receiving a phone call from the buyer hoping to make the situation better. This has happened so many times with several resellers that I will no longer provide support for models purchased from these individuals or companies and I have made this information available to anyone that wants to make the effort to know more about who they are potentially buying from. I have encouraged buyers in these situation to return the models or request corrective action on the part of the seller, but some times it boils down to hearing from the buyer that 'the price was so good I hate to return the model', in which case please do not call me!
With the importance of the secondary market continuing to grow as a result of the COVID-19 situation, knowing who you are buying from is extremely important. A particular case in point is a current ebay listing for a Kohs & Company produced PRR GG-1 locomotive. In another cut and paste effort from my website, the seller describes the listed model based on the original project intent without making reference to the subsequent project updates that indicate that the model he is describing does not even exist! There are a couple of resellers that have worked very hard to develop a very good base of knowledge regarding models they sell, but this individual certainly isn't one of them. Misrepresenting the rarity of a particular model within a production run has happened numerous times with sellers even with the largest, but representing a model that doesn't even exist is a new low, whether intentional or otherwise.
2/22/21 - I wanted to offer a few lines here to thank everyone that has been in recent contact with me to express continuing or new interest in our projects. The last several months have obviously been extremely difficult for all concerned and the impact on the model train world has been staggering to say the least. That said, the number of visits to this website are at a new level and there seems to be a great deal of enthusiasm looking forward. I believe that Mark Twain made a comment at some-point about the pending death of.....I think, the model railroading hobby. As usual, the modeling blogs are littered with commentary about the situation from people that don't have a clue about this or much of anything else quite frankly.
I have previously written at some length about the situation overseas as reported by friends/builders in both South Korea and China. From the outset, as I explained to everyone with which I have had direct contact, I have maintained three goals from the outset of the COVID-19 situation; first and foremost to stay healthy, without accomplishing that not much else matters both from a personal as well as a business perspective. My entire family has remained vigilant in observing recommended precautions, I have personally been test for COVID multiple times and have also been tested for the COVID-19 antibodies, all results have been negative thankfully. Secondly, to make good use of the extra time created by the COVID delays to improve the final results for all affected projects. Finally, to maintain a communication network with builders and friends around the world to better understand the ongoing status of possible production and to avoid the pitfalls of trying to rush through the problems created and ultimately compromising our final project results.
For anyone starving for modeling news and ideas, there have been and are ongoing virtual gatherings to share modeling projects and even virtual train shows. I have taken part in a number of these events and while they are not without problems, there has been some great information shared about modeling in general as well as prototypes. Hindsight 20/20 and NewTracksModeling.com are two of the groups involved in regularly scheduled events. In addition, some of the regular large train shows have begun to organize virtual events to replace their canceled in-person shows. As I said, they are not a perfect answer to a difficult situation, but the people making the effort deserve a great deal of credit. If there appears to be enough interest, I'll do a listing of virtual events that I am aware of.
As always, I will continue to update everyone one interested in Kohs & Company with the latest information that I can put together.
2/07/21 - Updating my comments from the 2/4/21 post; seeming, Brasstrains.com has acknowledged their impropriety by removing the prototype descriptive text from their 'Queen Mary' flat car listing. Enough said.....until the next time.
2/04/21 - Just a brief update to again call out the business practices of Brasstrains.com. On two previous occasions the owner/managers of this business entity have been informed of the illicit business practices of the builder that created models they have again chosen to represent, in this case an O scale PRR FD-2 'Queen Mary' flat car. Being very familiar with this project having produced the same model with another builder after E.K. Models attempted to defraud Kohs & Company, the model Brasstrains.com is selling is substandard in quality although their price is nearly what Kohs & Company has charged for the same model which was built to a much higher standard. The final insult is that Brasstrains.com has cut and pasted, word for word, their model prototype history from the Kohs & Company PRR FD-2/FW-1 project web page.........at least they did not make reference to Kohs & Company in their listing this time...........caveat emptor.
1/27/21 - The listing for sale of unique, one-of-a-kind and rare items has begun. The first small batch are things related to the years that I worked on the Lionel trains projects with Fine Art Models, the listings can be accessed on the Collectibles portion of this website, more specifically at the following LINK. There will be more to come as time allows to get items listed so stay tuned if you are interested.
1/16/21 - Just a brief heads up that I have been in the cleaning/organizing mood for the last several weeks and have come to the conclusion that it's time to clean up my archive and storage area which means that a variety of sample models, parts and printed materials of all sorts will be offered for sale in due course. This will be done as time allows and quite frankly as I am able to make the difficult decisions about what should go. Please do not write and ask about the availability of specific parts or models, I will not be able to respond to those types of inquiries. I can tell you at this point that the items to be evaluated/offered date back to my involvement with Fine Art Models and the Lionel Smithsonian projects.
I have yet to decide where on the website the items will be offered, but further information will be provided as decisions are made and items are organized.
1/01/21 - Happy New Year to all, wishing all of our visitors a prosperous new year and happy modeling. With the new year comes the hope that daily life will begin to return to some degree of normalcy which will allow the projects of Kohs & Company and others that have survived the COVID experience to begin to move forward without further delay and loss. I will be beginning the new year with project updates for all of our active projects in the next few days, so please return for another visit to learn the latest about our projects and plans.