7/20/09 - A further update regarding the newly updated NMRA Standards and Recommended practices. After reviewing what I believe are the final documents, the net result with regards to Kohs & Company is that I will do as many of you have suggested and continue to use the standard that I developed almost twenty years ago. There were interim versions of the NMRA documents that actually showed some promise in terms of correcting a couple of problem areas, but apparently the documents did not correctly reflect the intent of the organization and they were 'corrected' prior to the final release. The new S-4.2 standard actually makes the situation worse for those interested in operating finely detailed O scale models. If the NMRA really wanted to accomplish something for the standard O scale hobbyist, they would have developed an actual 'wheel gage' standard as they have done for the 'Fine' and 'Proto' scales. Hopefully the next time the NMRA gets around to doing updates, they'll seek more validated input.
7/10/09 - The previous update generated a considerable amount of positive feedback and I sincerely thank those of you responsible. A number of additional questions were also raised, most of which I answered directly, but one question in particular was so common that I decided to respond here from the perspective of one importer. Generally speaking, the questions were along the lines of who or what governs what types of brass models are produced and imported, this question obviously emanates from the same source that was sited in the previous update. First of all, I would not be one that would classify any group as 'big buck', that carries a very negative connotation to my way of thinking. Although Kohs & Company sells high-end models, there are very few of our clients to whom money is no object. The vast majority of our clients are individuals that work hard to earn their money and have to carefully allocate what they spend on the hobby, I am honored that so many find our models worthy of such an expenditure. Is any group of modelers being held 'hostage' by the preferences of another in the O scale hobby, let me simply say no. As with any type of business in a free market place, demand will govern what products are produced and anyone that recognizes a demand that is not being met should be encouraged to attempt to meet that demand. Kohs & Company routinely solicits those interested in the hobby to provide feedback regarding potential projects and I will continue to follow that lead in selecting what I produce.
7/06/09 - The confusion revolving around the new updated NMRA Standards and Recommended Practices continues. After reviewing the documents for which I posted links on 6/30/09, I found mistakes or inaccuracies and have been further advised by the NMRA that there are problems with different versions of the documents that have been made available. As a result of this, I have taken down the links to all of the documents until the NMRA figures out which documents are correct. I can tell you that the new proposed 'standards' have been approved as of July 3rd. Although the revisions were under consideration for more than two years, Kohs & Company never heard a word from the NMRA committee considering the changes and I know that several other importers also did not. Apparently the experiences of an importer that has delivered more than four thousand brass models using a standard relevant to the new 145 standard were not important. As previously mentioned, once I have sorted through the correct documents, I will provide my thoughts regarding what the new standards mean for Kohs & Company customers, if anything.
I took the opportunity over the holiday weekend to catch up on the numerous e-mails that have accumulated in the last 3-4 weeks offering general observations about the O scale hobby and some of the things that have appeared on the Internet and in writing. Rather than responding individually to each message, I decided to offer my perspective below to save time.
Regarding the Internet forums and groups that disseminate misinformation, it's not worth the time or effort to respond to the typical uninformed ranting's or the lies that are told, that only draws attention to the individuals responsible which is exactly what they are seeking. Rather than responding to the lies online or in print, it has been a better experience to confront some of the individuals responsible for the lies in person and watch them waffle and quake like little boys, when asked to explain their lies (Ed the 'Brasman' knows). When these sites knowingly or otherwise allow the use of multiple names so 'contributors' can talk to themselves, what's the point in paying any attention.
Regarding the Internet distributed 'Photo Essay' concerning two of the C&O H-8 models that I produced, most everyone that I have heard from now recognizes that effort for what is was; a 'make-work' project that served as a smoke screen for the creator's own inept handling of the import project he was responsible for developing and prepping, that resulted in numerous models being returned. What I never did hear from anyone involved in that saga, including the model owners, was an explanation for why neither Kohs model was returned for 'repair' under the 'Limited Lifetime Warranty' if there were legitimate issues, curious, to say the least. The bottom line is that every original Kohs owner does have a warranty they can depend on and it is also interesting to note that an H-8 owner just sold one of his 'terribly deficient' extra models for $6,250.00 so it would seem that owners should not be too concerned about the assessment delivered in the 'Photo Essay'.
A more troubling situation is the writing of Joe Giannovario, Editor-in-Chief/Publisher of O Scale Trains Magazine. I have read with great interest Mr. Giannovario's call for 'transparency' and 'standards' directed at manufacturers and importers and the hypocrisy is too great to ignore. Of particular interest was the 'Observations' page in issue #45 of OST where Mr. Giannovario alluded to having difficulty in operating his two Kohs models on the layout they were intended for, when he made reference to them requiring 'tinkering' for correct operation. What Mr. Giannovario didn't tell you was that he acknowledged to me in writing that the problems he was experiencing were of his own making, "I have to hang my head in shame. The problems I'm having with the Y's are due to bad track laying on my part", the facts apparently got in the way of trying to make his point. Not the first such lapse in credibility. Previously, Mr. Giannovarios produced photos of one of his Kohs Y6b models and supplied them to one of his advertisers for use in an ad for a project of the same type which he then published without proper photo attribution. When asked about the situation, the explanation was less than candid to put it politely. More recently, during a conversation at the April TCA Meet in York, Pennsylvania when asked about the intentions of an ad he published in OST that again was in direct competition with two of my projects, Mr. Giannovario acknowledged that he did not believe that the projects were ever intended to be completed and that he also believed that the sole purpose of the ad was to damage Kohs & Company, another shining example of OST's publishing 'standards' and 'transparency'. Is the sudden interest in NMRA Standards and Recommended Practices by OST coincidental to that same advertiser's efforts to discredit Kohs & Company, because we advanced beyond the outdated NMRA standards years ago? If it's a genuine concern, where were the articles highlighting the issues, explaining in depth the need for updates and exploring what factors the NMRA should have considered prior to the passage of the new standards on July 3rd? The NMRA has been reviewing the standards for more than two years without a mention by O Scale Trains Magazine until now, is this simply another advertiser support program, using, half-truths, disingenuous statements absent the Kohs photo this time? Kohs & Company provides a warranty to protect it's customers, what does O Scale Trains Magazine provide it's subscribers to ensure they are being given the true facts within it's pages?
I take no pleasure from calling into question the intentions or motivation of others in the hobby, but I do have an obligation to defend my customer's substantial investments from being jeopardized by misinformation and lies. My end goal through positive efforts is satisfied customers, as it should be for any businessperson. While I have yet to produce the perfect model and never will despite how hard everyone involved in the process tries, it would seem that Kohs & Company products have developed a niche in the O scale market that our competitors can only envy and attempt to tear apart. With every locomotive model produced thus far sold and the value appreciating an average 26%, based on secondary market sales in the last two years, I accept as a badge of honor the fact that Kohs & Company has not had to rely on advertising for several years to achieve this result. Return customers tell the whole story.
7/01/09 - It was reported to yesterday that there was a problem with the text size changing on portions of different pages making it difficult to read. I have re-inspected the most recent pages and I believe that the problem has been corrected so the text should be a uniform size throughout paragraphs. The text size used has not changed since the beginning of this site so there should not be any issues in adjusting it using your browser's text size control now that the recent technical issue has been resolved. Please let me know if you encounter any further issues with difficult to read pages.
6/30/09 - The following is a list of potential projects that has developed over the last several years based on my original business plan, personal preference and customer feedback. My experience to date with research has changed my project selection process, because all too often original sources of promised material have failed to deliver the necessary reference and I have been left hanging trying to locate alternate sources. The change in approach is to provide an idea of what I am actively working on without raising expectations to a fever pitch until we know for sure we can proceed. A couple of projects listed are definite with complete reference packages and simply have not been placed on the schedule pending the development of projects previously announced. Some on the list will be definite projects assuming that the remaining reference material can be assembled. The remainder are potential projects that I have been actively researching as a result of customer feedback and if support is strong enough they will move forward. A major reason for listing projects is to seek assistance in assembling the necessary research material to produce them, so I again stress that if you can offer assistance with material or guidance in locating reference material it would be greatly appreciated and your efforts will be rewarded appropriately.
There has always been a reluctance on the part of importers to show their hand by listing projects, for fear that some other importer will 'jump' the project, that's happened to me twice so far, but at this point I am confident enough about my support and ability to produce the best models that the potential benefits out weigh the risk. I'm not going to categorize the projects based on current status so if you are interested in a particular project, do not take anything for granted if the project has not been listed on the site index as an active project. I am aware that several of the projects listed below have also been listed by other importers and subsequently dropped due to a lack of support, I do need to hear from you to increase the likelihood that your project of interest moves forward in development. Keep in mind that a number of the listed projects are common or very similar prototypes shared by multiple railroads.
Railroad

Prototype

Canadian National Railroad

U3 variations (4-8-4)

U4 variations (4-8-4)

Chesapeake & Ohio Railroad

C-16 (0-8-0)

K-4 (2-8-4)

J-3 variations (4-8-4)

T-1 (2-10-4)

Grand Trunk Railroad

U3 variations (4-8-4)

U4 variations (4-8-4)

Milwaukee Road

TBD

Missouri Pacific Railroad

TBD

New York Central Railroad

L-2 variations (4-8-2)

L-4 Mohawk (4-8-2)

Norfolk & Western Railroad

J (4-8-4)

M variations (4-8-0)

S-1 variations (0-8-0)

Pennsylvania Railroad

B6sb (0-6-0)

>BP-20 Diesels

J-1 (2-10-4)

M-1 variations (4-8-2)

T-1 (4-4-4-4)

Rio Grande Railroad

K-36 (2-8-2) narrow gauge

Santa Fe

'Texas Type' (2-10-4)

Union Pacific Railroad

FEF (4-8-4)

S variations (0-6-0)

8500hp Turbine

Virginian Railroad

BA (2-8-4)

SB (0-8-0)
The proposed updated NMRA Standards and Recommended Practices for standard O scale railroading previously mentioned and provided for download on 6/10/09, were either not accurate and/or incomplete as provided by O Scale Trains Magazine. The correct and complete proposed updates are listed below and available for download for your evaluation. I will be offering my perspective on what these proposed changes will mean for Kohs & Company customers in a soon to be posted update. There will also be further reflection on the issue in my technical pages under both the 'Wheel Gauging' and 'Track' links.
Proposed Updated NMRA Standard: S-3.2 (Standards, Track, Standard Scale)
(Link removed, see 7/6/09)
Proposed Updated NMRA Standard: S-4.2 (Standards, Wheels, Standard Scale)
(Link removed, see 7/6/09
Proposed Updated NMRA Recommended Practice: RP-25 (Wheel Contour)
(Link removed, see 7/6/09
6/21/09 - Having just returned from the 2009 O Scale National Convention in Baltimore, Maryland, I wanted to offer a most sincere thank you to the host committee, Baltimore O Scale, LLC and The Baltimore Society of Model Engineers, for all of their effort in staging a fantastic event. It is unfortunate that the hosts did not receive the support of the O scale community in terms of attendance, but that was not due to a lack of effort on the part of the committee. There was a great mix of vendors on hand and the tables were full of models and supplies that were not the usual 'things' toted from show to show. Speaking for myself as one vendor, my sales were great and more importantly, I had the opportunity to see a number of people that have been customers from the beginning of my business that I have not seen in recent years at other shows, so thank you committee for all of your effort!! One additional sidelight; unfortunately for my diet, there were some great and unconventional places to eat...................so I ate and ate until my wife stopped me!!! I was just trying to support the local economy.
6/10/09 - Additional topics have been added to the 'Technical' index page, this section has generated considerable interest and I am trying to update the individual pages and information as quickly as time allows. I remain open to suggestions, so please feel free to pass along your ideas.
Since the discussion of wheel gauging began, it has been brought to my attention that the National Model Railroad Association (NMRA) has been considering an update to the standards for the past couple of years. This link (link removed, see 6/30/09 post) will provide you with a list of the proposed specifications. In addition to these updates, the NMRA is apparently considering changes to the track standards, but I am unaware of the specific changes at this time. As more is learned, it will be made available either on this page or the technical information page.
5/18/09 - I have several pieces of update news to share as of this date; we have new updates on our UP Challenger and PRR N5/N5b project site, so be sure to check them out. The feedback from my first technical data postings has been extremely positive and I wish that I has started the process sooner. The technical information will take a while to be fully available, but be assured that it is coming! Quite frankly, the reaction has been so strong that I am looking at making the information available in print form once it is more fully developed, but we'll have to see where it leads with a little time.
I will be posting in the near future, a list of potential projects that we are actively working on in terms of collecting data. When I say we, there are a number of dedicated individuals that have been assisting my efforts in terms of research and data collection and I most certainly consider them part of my team. When I started Kohs & Company I selected a number of prototypes that I wanted to model and we have been successful more often than not in getting those projects to market, but there are still a couple that we are struggling with. The idea of posting a working list of potential projects is to let everyone know, including our fellow importers, what we are actively working on and to solicit feedback and assistance before we announce them as firm projects and wind up bogged down due to a lack of data. I do not expect cooperation from other importers, because that has never happened in the past and I am certain that it will not in the future. If another importer decides to 'jump' one of our listed potential projects, that will not dissuade us from moving forward assuming that the data falls into place. There is no secret that it takes Kohs & Company longer than other importers to develop our projects and I believe that most people understand why at this point. I also understand that it can be very frustrating when we have a project listed and we are struggling to make progress, hopefully we can avoid some of the frustration in the future. Please let me know what you think of the potential projects once they are posted.
I have received a number of inquiries about Kohs & Company developing some C&O hoppers, so to save a lot of speculation, I will acknowledge that we are in fact doing so. I do not know how the information has gotten out, but I will not be saying much more on the subject. This is a privately commissioned project which is not intended for resale, the cars will be used on a private railroad. Unless the individual responsible for ordering these models changes his mind, we will not be reporting or offering any additional information, I hope that everyone understands.
Kohs & Company models continue to do well on eBay or in this case Kohs & Company parts are doing well! A set of twelve containers from one of our PRR G22b gondolas just sold for $345 and a pair of trucks from the same model sold for $182.50. This seems to confirm what a great value our G22b's are at only $650 for the whole package. $650 is not inexpensive, but you receive a lot for your money, a piece of rolling stock built to higher standards than most locomotive models.
My updating will continue, so please check back often for the latest information. I do appreciate your interest!
5/10/09 - The expansion of our web technical pages seems to have really hit a high note based on subject titles alone with many that follow our web site on a regular basis. We have received a number of requests for specific types of information regarding our models specifically and brass models in general. With the level of feedback that I have already received, I felt it appropriate at this point to lay out in a little more detail exactly what I have in mind for these pages that are being updated and/or created in whole for posting in the very near future.
The first objective is to provide another resource that more fully explains the capabilities of our models that owners can refer to. Our instruction sheets try to provide a good general overview of each particular models functions and features, but many times there are lingering questions that never get asked. Since we provide repair services for existing owners there is no concern in that regard, but for owners that acquire models through the secondary market and want to handle general maintenance servicing themselves, I hope to offer information that will make that task easier. A common issue for original owners as well as secondary owners alike is that of installing DCC decoders in their K&C models. I will provide information that will make that situation a financially safer proposition for those hiring the work done and easier for those choosing to do the installations themselves. I want to avoid having our owners told that 'these K&C models are just so complicated that they take several hours to disassemble' and being charged for work on that basis. In fact, our most complicated models (N&W Y6a & b's) take less than fifteen minutes to completely disassemble if you know the process or bother to ask what the process is. Most importantly, I want to avoid owners having their models seriously damaged by basement hobbyists that offer installation services that prefer to cut models apart rather than ask for guidance when they can't figure a model out. It needs to be understood that we have installed DCC decoders in every type of locomotive model we have produced to date without any loss of operating features, our sound & control systems are fully compatible with DCC technology if you know what you are doing.
In addition to the owner resources, I plan to provide information that will be helpful to those new to the hobby for judging the quality of brass models and on which to base purchase decisions. Not everyone builds their boilers the same way and with the same level of detail. Yes, there really is a difference between 'etched' rivet detail and 'punched' detail and I will illustrate those differences. Based on feedback, the process of casting development and production is not well understood, so I will cover that topic in words and photos. Not all fireboxes are created equal and I will explain that in detail. Not everyone follows the National Model Railroad Association (NMRA) recommended standards and practices for electrical wiring and wheel gauging, I will explain why, and yes, there really are differences between many of the commonly available brands of track, rail and turnouts, I hope to offer some insight into those differences.
As with all subjects, we seek your further feedback using any means listed in our contact information.
<5/04/09 - The issue of wheel gauging persists as of today's date, with Kohs & Company having received a request sent to all major importers by Joe Giannovario Editor-In-Chief/Publisher for wheel gauging specifications to be published in O Scale Trains Magazine. The expressed purpose of this request follows: "By requesting the information from the major importers I am trying to understand the scope of the issue and maybe develop a new standard for both track and wheels. I'd like to see track made to P48 standards and wheels made to something between the NMRA O and P48 standards". As a matter of information and fairness, I have provided the exact wording upon which I determined that Kohs & Company would not honor the request to publish our proprietary information. Kohs & Company customers need not fear, we will not be making any changes to how we build our models, but it is important for those of you that have a serious investment in O scale model railroading equipment to understand all the factors at play in this ongoing saga. Watch for further comment on the issue of gauging in our 'Technical' pages under the link for 'Wheel Gauging'.
4/20/09 - If you are a regular visitor to our site you may notice as you view various project site pages that we have changed the formatting on many of the pages. The changes have been made in order to provide a more consistent viewing experience and to also provide more predictable printer output. On most of the changed pages we have not modified the 'update' date unless there was also new content added to the page. We hope that this effort on our part makes your future visits more enjoyable.
4/13/09 - One of our great customers in the Netherlands owns and operates a very large traveling modular layout which is shown in the photo below. The photo was taken at Rail 2007 in the Netherlands which is an annual event. In 2007 they pulled 103 american prototype four-axle cars using either four Atlas diesels or a pair of KTM 'Big Boys'. After reading about one of our customers here in the states that has pulled approximately 150 hopper cars with his Kohs & Company C&O H-8 Allegheny, he took that as a challenge for the 2009 event. For 2009, they have more than 200 cars waiting, the total length of the 'consist' can reach approximately 60 meters (195') in length before the leading locomotive will be 'biting' the tail end of the train as our customer explains!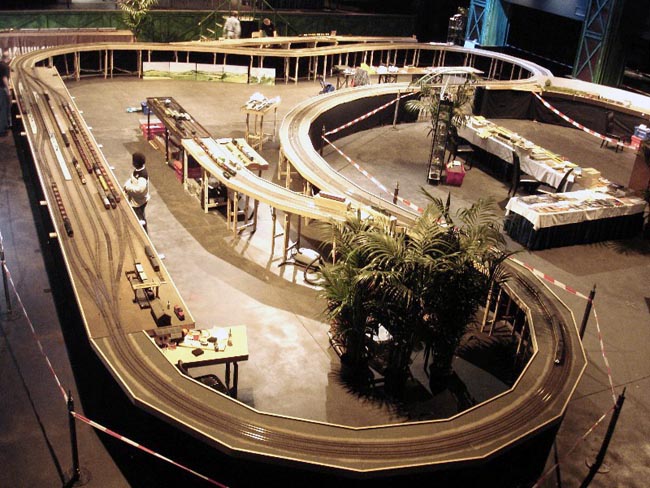 Shown below is another view of the layout which gives a little better 'feel' or perspective for it's size.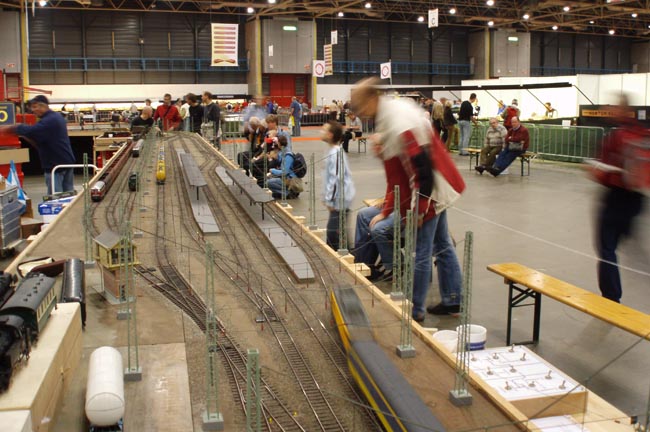 Shown below is our customers H-8 in the workshop test area with five specially built heavy-duty 'wagons' waiting behind for their test load. The testing was being dome in preparation for the 2009 event and the challenge of pulling more than 150 cars. The special 'wagons' were constructed to support very heavy test loads that can not be distributed over a large number of cars due to space limitations in the work shop area.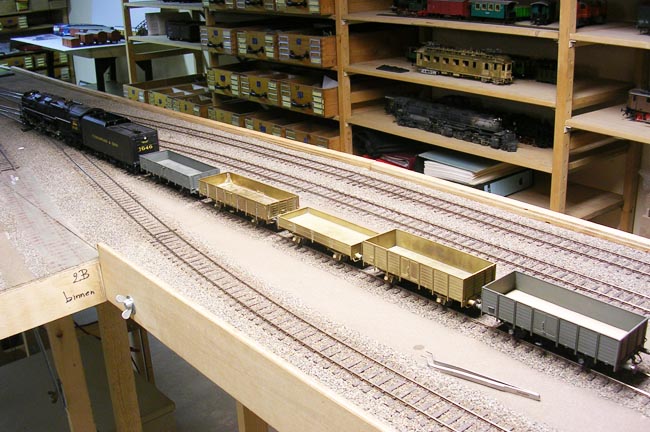 Shown in the last photo are the 'wagons' with the test load (plate glass sheets and a computer CPU) in place. The total weight of the test load is 38 kilos (approximately 85 pounds), keep in mind that this load is spread over only ten (10) axles, the rolling resistance of this load carried by only ten small O scale axles is enormous! The custom built KTM 'Big Boy' coupled to the wagons in this photo was unable to move them with the pictured load. The Kohs & Company H-8 further up the rails in the photo had more success in moving the test load, the calculations indicated that most all of the 200 available cars will be required to 'stall' the H-8 on the big layout.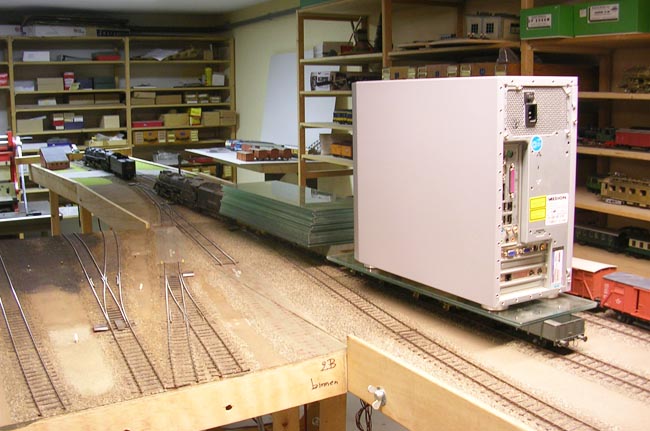 4/11/09 - I have to make note once again of all the expressions of condolence that our family has received from our many friends in the modeling community. The number of cards notes and letters that we have received since the passing of my mother almost two weeks ago has been extremely humbling. We sincerely thank you all again for your kindness in taking the time to offer your comforting comments.
4/10/09 - Over the past few days, there have been comments from Kohs & Company customers regarding a public mis-information campaign being waged concerning one of our recent projects. I am fully aware of the material being distributed to a select group within the O Scale community, and what subsequent rumors have been spread concerning our products and business policies. Unfortunately, events such as these have been all too common in our hobby when individuals attempt to drive their personal and business agendas to some sort of an advantage.
I feel that it is important for Kohs & Company customers to know that the current mis-information has been generated and distributed by Roger Lewis and Gary Schrader, both of whom have direct business relationships with Key Model Imports. Past experience suggests that when certain importers cannot compete in terms of prototype fidelity, quality of construction, technological innovation, or just plain value for the dollars spent, we can expect the behavior we are once again experiencing.
Be assured that Kohs & Company will continue to concentrate on and excel in all areas of importance to our customers. We will continue to produce products that have not only received world-wide acclaim, but, most significantly, are considered by our customers to be "The Finest in O Scale".
4/05/09 - As I become fully re-engaged in the business of building the finest models our team possibly can, there are a few house-keeping issues to be discussed and or dealt with. It has been over two months since I withdrew from the day to day business activity to deal with our family situation and the last involvement was my attendance at this years O Scale West show and what a pleasure it was to be back in Santa Clara. For several years off and on there has been a conflict with our participation at the Nurnberg Toy Fair, but this year I made the decision to return to Santa Clara instead of Germany and I am happy that I did. O Scale West provided the opportunity to meet with many of our West Coast friends and customers that unfortunately I do not get to see at any other event around the country, so I thank Rod Miller and his crew for again putting on a great show.
There were a number if interesting discussions at the show this year, but the most frequently reoccurring topic was of course the economy and more specifically the value of the models we have produced over the years and how well they seem to be doing in comparison with models produced by other importers in terms of resale value. More than one individual lamented that if he had invested more money in our models rather than the stock market he would be far better off financially than he otherwise is. Point of fact is that when our models are coming up for sale, they are doing exceptionally well with premiums of routinely 20-25% being paid with as much as almost 100% premium being paid in some cases. Very recently a GG-1 offered for sale on eBay sold for more than $4,500 when the original price was $2,800. Also on eBay, one of our PRR N5c cabin cars sold for $911, it's original price was $485. Examples of our first project, the NYC J3a Hudson have been routinely selling for more than $4,000, N&W Y6a's and Y6b's are selling for more than $5,000 if you can find one and I have a waiting list for people looking for UP 9000's. We will be publishing a comprehensive listing of our projects including all of the unique variations that have been included in our production runs, until now these have not been discussed and except for their owners, no one has been aware of their existence. Along with the listing, we will be offering suggested resale prices in an effort to help our current owners and more importantly, those handling the estates of our current owners at their passing. We will be doing even more to help those charged with handling estates, but that will be discussed in future postings and also in the forthcoming printed update that everyone on our mailing list will receive. Needless to say, anyone that has one of our models and has maintained it's condition should be very happy with their investment, although we have never suggested buying any of our models for investment purposes. Our models are meant to be enjoyed, but retained value certainly helps with justifying their purchase!
Also during O Scale West a fellow brass importer, Key Imports or Key Model Imports or whatever their name is at this point, announced the Southern Pacific 'AC' series cab forward as a new project. The only importance here is that apparently Key and/or their faithful minions are claiming that Kohs & Company 'jumped' on the same project after Key's announcement. Key says their 'AC' project has been in the works since September of 2007, so there's only one problem with their story, we first listed our cab forward project in a printed update in January of that same year. So if you care about such things, is their story based on ignorance of the facts or a lie? No one should be surprised, this situation has happened over and over again, but judging by the messages I have received, there is still a great deal of disappointment with the lack of integrity in the brass model business. There is a simple explanation for why this continues to happen; importers that cannot compete in terms of product delivered have to try to be the first to market so they can sell 30-40 pieces to those individuals desperate to buy a model of a particular prototype before a standard has been set that they cannot compete with. As it has happened in the past, the next play in the book is to spread rumors about what Kohs & Company has or hasn't done, how bad our models are or better yet, that we are going out of business! It's all been said before, so stayed tuned for your own enjoyment and watch where the 'junk' comes from, it will all lead back to one place. To our friends and customers, don't be upset, facts are facts and lies are lies. No one can change the fact that we have sold out every locomotive project of not 30-40 models, but 100-150 models without 'playing' with our prices for anyone or using secret deals with special-friend-dealers to sell excess models that otherwise would not sell. As customers you have invested in that success and you own the best examples of the chosen prototypes that have ever been produced. We have routinely delivered a product better than was promised and have done so without fanfare or hype, we have never had to promise that our next project really will be better than our previous. We value your trust and have never sold you short in the past nor will we in the future, I speak for my entire very dedicated team that makes our models possible.
Although I cannot explain why, the above situation has always proven to be of benefit in the past. When Key produced the PRR J-1 when we were looking at undertaking that project, the demand for us to do the project has grown substantially since the completion of the Key project. Likewise, when Key announced the Southern Pacific GS-1 after we did, the demand for us to move forward on ours has again gone through the roof since Key completed theirs. With any luck, maybe Key will take on every project we have listed!
Online project updates will commence over the next few days. The long overdue UP Challenger printed update will be in the mail to reservation holders in the next 1-2 weeks. As mentioned earlier, there will be a printed update mailed to everyone on our mailing list just as quickly as it can be completed. I plan to take part in each of the shows that I currently have listed on our show page, and I am actively looking to add additional show opportunities, if you have suggestions please let me know what they are.
Finally, to all of those who have been patiently waiting for me to do something for you over the past couple of months, that is the first order of business in the next few days. I sincerely appreciate your patience as does my family!!
4/04/09 - The past few days have been made infinitely more bearable by the numerous very kind messages that I have received from my modeling friends regarding the passing of my mother. I wanted to take just a moment to thank each and every one of you that have taken the time to offer your thoughts and prayers, each of you will receive a personal response from me, but I wanted to offer a general acknowledgment in the meantime since it will take just a bit of time to handle the volume of messages that I have received. I offer my sincerest thanks to you all!
3/31/09 - As many of you that have followed the development of our projects already know, there has been an ongoing series of serious health issues with my 97 year old mother. In particular, the last two months have been particularly difficult and forced my absence from shows where many of you had hoped to discuss our projects in person. Our modeling efforts have taken a back seat on many occasions and rightfully so, it should not have been any other way under the circumstances. Today, I regret to inform those that have expressed interest and concern that my mother passed away at home this past Sunday after a valiant struggle. She was in large part the influence in my life that showed me that most everything was either worth doing right or not at all with very little compromise, she continued to teach me about life until her final hour and for that I am very grateful.
I want to take this opportunity to thank all of my customers/friends that have shown great patience as I have been distracted from my usual business routine, that has made it possible to provide the care that any person of advanced age deserves. I expect our modeling efforts to get back to normal in the next week or two and that will be signaled by a new mail update which will provide an overview of the current status of each project, like information will also be posted on this web site. We have exciting project information to share and are very anxious to do so, so begin to check for updates very soon.
3/19/09 - Due to a very serious health crisis within our family it may be impossible for me to attend this years March Meet in Chicago. I will try to make it for at least a few hours on Saturday if at all possible so that those of you that have been looking forward to discussing our projects in person will have that opportunity. Your understanding is greatly appreciated in this extremely difficult time.
2/28/09 - We have had many inquiries about what we are up to since we have been very quiet (no web updates) since O Scale West. In short, it was a rush trip home from O Scale West to place my mother in the hospital where she remains today in critical condition. 12-15 hour days at the hospital every day have prevented a lot of work from being done, but a sincere effort is being made to get back up to speed on a number of important issues. You'll notice that there are several new updates posted on project sites and there are more to come as we plan out our future production schedule. There have been numerous inquiries regarding the status of our Southern Pacific GS-1 project due to the release of the Key Imports model of the same prototype, that will be addressed on that specific project site within the next day or two. We have made significant progress with our research efforts on several projects, both old and new, the progress on old projects has been updated on the specific project site while new projects will be mentioned here. Specifically, in addition to the progress on the Niagara, we are acquiring reference material for the New York Central 'Mohawk' class prototypes with an eye toward making one or more classes future projects. We have also located and are acquiring drawings for the Chesapeake & Ohio 'Greenbrier" class locomotives, a personal favorite which will definitely be an upcoming project. We are also preparing the offering information for two of our rolling stock projects for which the reservation process is long overdue, the Pennsylvania FD-2/FW-1 flat cars and the Chesapeake & Ohio steel cabooses. We will also be updating the projects that are currently in production as quickly as we can. There will be additional postings very soon as we try our best to get all of the new pertinent information presented. Check back frequently over the next few days.
1/29/09 - As many of you know, we have been working to put together a research package for the Southern Pacific AC-10, 11 & 12 Cab forward locomotives and the good news is that the package is complete. Having just paid a return visit to the California State Railroad Museum, the last of the needed material was sourced and we are confident that we have enough material to do this prototype justice. The fact that this prototype is our builder's favorite only means that this project will receive extra special attention. We will be creating a project site in the next few days, so check back for further details and information. There is also news regarding other existing projects as a result of this research 'mission' and we will be posting updates on several projects in the next couple of days.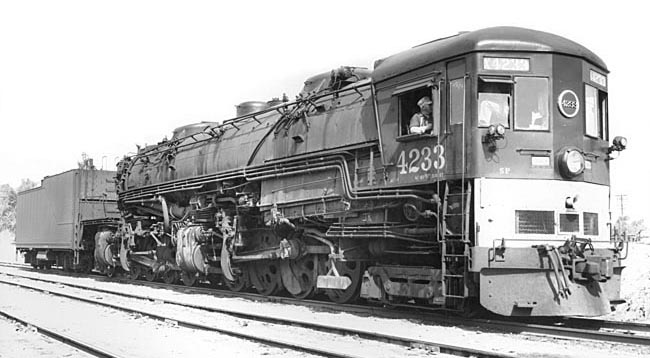 Southern Pacific AC-10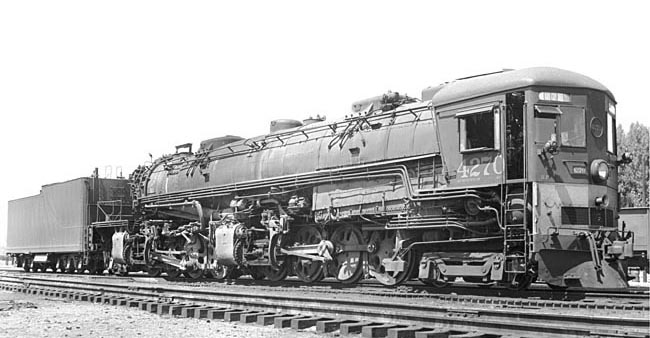 Southern Pacific AC-11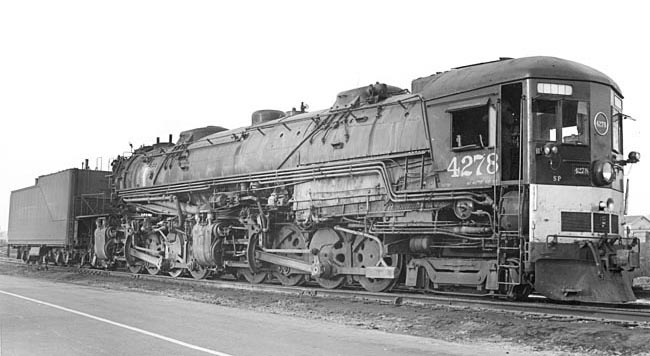 Southern Pacific AC-12
1/22/09 - We have to report a rather unusual situation regarding the E-mail communication with our company. In the last few weeks we have been receiving an extremely high volume of electronic communication intended for the Kohl's Department store, both intra-company communication as well as messages originating from outside the company, but seemingly interned for employees within the company. Although the situation has been reported to Kohl's and network administrators the situation continues and we have received enough confidential information at this point to run that organization. The purpose in mentioning this situation is to advise anyone that may have tried to E-mail us and have not received a response that there may have been an issue that prevented the messaged from being correctly delivered to us. We are not aware of any such situations, but please let us know if you have had difficulties in communicating with us.
1/13/09 - The image now on our homepage seems appropriate now that the holiday season is fading in our memory, Santa Claus say's goodbye from the 'traditional' end of the train. The photo was taken by Dr. Steve DeLoach, one of our great supporters down in Tennessee. The image features one of Dr. Steve's Kohs & Company N&W cabooses running behind several PRR G22b gondolas on his fantastic layout. We have featured several photos from Dr. Steve's layout in the past and we will be posting some new shots on our 'In-Service' page that he provided which highlight some of the new developments on his road. As always, we thank Dr. Steve for his submission and we encourage other owners to forwarded us photos showing their Kohs & Company models in action. If you are a collector that has an interesting way of displaying your models and would like to share that with others please feel free to forward photos of your displays as well.
During the holidays we took the time to review the status of currently listed projects in an effort to determine the feasibility of moving forward on several of the projects that have been listed for quite some time. This was done in preparation for announcing some new projects and trying to get them set in some reasonable order for development and production. We are also considering modifying our approach to data collection in an effort to save on some physical storage space and money. We have routinely spent thousands of dollars in research for each and every project we have undertaken, including the ones that unfortunately have not progressed as far as we would like and there is no return on that investment until the production is completed. Our data collection on some projects has been very straight forward and and fairly painless, while for some it has been extremely frustrating for a variety of reasons. In the coming days we will be updating the current status on each of our currently active projects in preparation for announcing some new ones that may be advanced in the production schedule as a result of current project situations. Your comments and feedback will certainly be welcome.