4/15/10 - I have continued adding more photos to the production sample page and there are still more to come. I have to say again that I do not have any more Allegheny's for sale, I wish that I did. There have been a number of new inquiries since the new photos have started going up, all I can suggest is that you let me know about your interest for future reference in case a model should become available. I do appreciate the new interest.
4/03/10 - After a very long delay, I am finally starting to post photos of the Allegheny production models so that there will be adequate information for future reference regarding this project. Only a small portion of the photos have been posted at this point, but there are many more detail photos to come as time allows.
12/08/07 - The great feedback on this project has continued for several months and that is very gratifying, but one of the most recent reports was of particular interest. One of our operating modelers has reported pulling 147 hoppers with his Kohs H-8 and felt that more could have been handled, but he only had 147!! Photos have been promised and as soon as we get our hands on them they'll be posted to our 'in-service' page. We encourage anyone that has photos to offer of your Kohs model in service to forward them and we'll post them on the site with your comments.
10/17/07 - Good news............the models are in our shop and we are shipping!! The long wait is almost over, we are doing everything possible to get the models back out the door just as quickly as possible while still giving them a thorough going over one more time. We will update further over the weekend. Reservation holders, thank you for your patience!!
9/27/07 - The models are now scheduled to be in Detroit on the 29th of this month.................finally!! We are making progress towards getting the models into our hands so stay tuned.
9/20/07 - Just a very brief update as I head out the door for the O Scale Nationals in Indianapolis, I hope to see you there! The H-8's have been shipped and are in Tokyo and we are working to expedite the shipment from Tokyo to Detroit. We hope to have this accomplished in the nest few days and will update the site regarding this situation during the weekend. I will be showing four of the five Allegheny versions in Indianapolis. Photos are forthcoming very soon and I apologies for the delay in getting them posted. More soon!!
8/17/07 - The photos below should be a very welcome site for our H-8 reservation holders, the production models lined up for final inspection at SJ Models in Korea. This inspection was the most overwhelming experience to date, where to start with the amount of detail that was built into these models. I can say without hesitation that this group of models represents the highest overall quality of any group of models we have produced to date. The level of quality and consistency from model to model has never been better. The models are currently awaiting air-freight space for shipment to Detroit Metro Airport and ultimately our shop in Clarkston. We have not posted nearly as many photos for this project as we would have liked, but we will be as time allows. Quite frankly, we have so many projects running that time has been stretched to new limits in keeping everything moving in the right direction and the web site has suffered as a result, but better the web site than the models! We are extremely proud of our collective efforts on this project and do want to share with as many as possible what has been accomplished with our H-8 project. There will be more information to come in the near future.
One final note this time around; after spending a considerable amount of time with the production models in mass it has been driven home what a real value these models represent, while certainly not inexpensive, there has never been a model produced that offers what our H-8 does at any price. The demand for models remains extremely high and we suspect will only grow once modelers and collectors have a chance to experience our H-8 first hand. After delivery, if any owner has the need to resell their model for a lesser price, please let us know.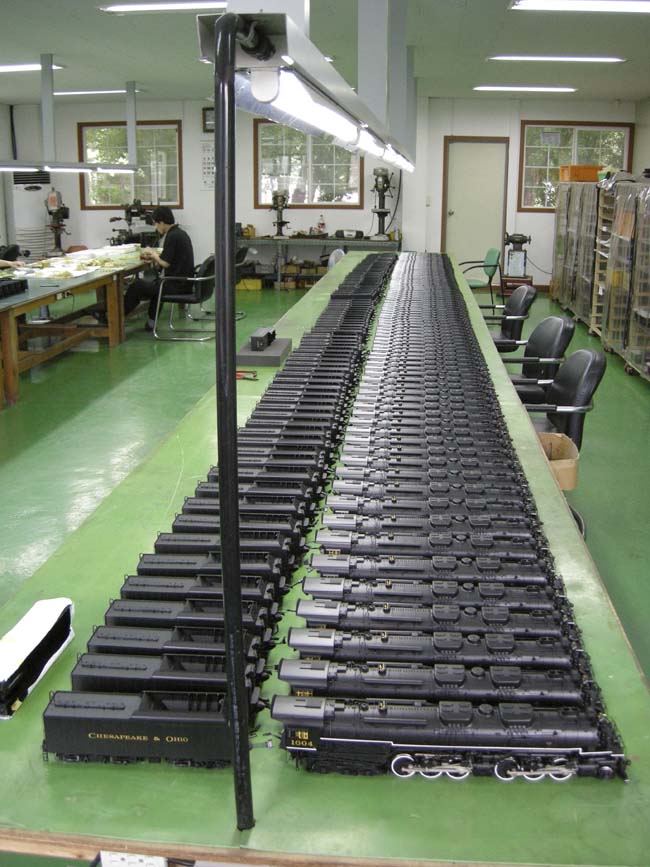 The photo below shows Mr. Lee our builder on the right with Mr. Lim or translator preparing for the inspection to begin. The perspective is from the 'hot' seat where I am seated to look at each and every model as it passes over the turntable inspection platform.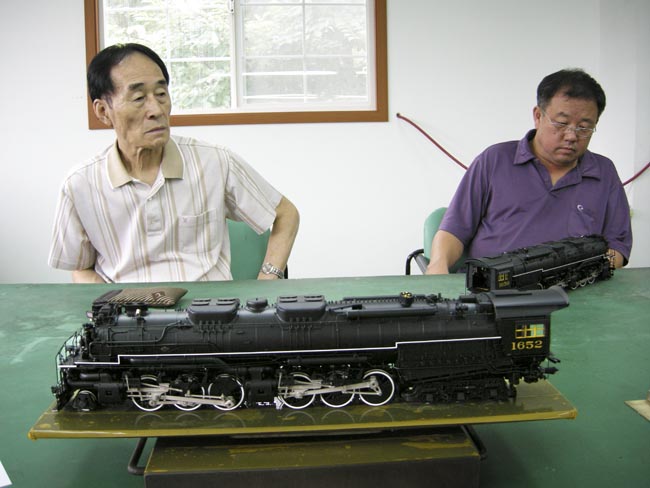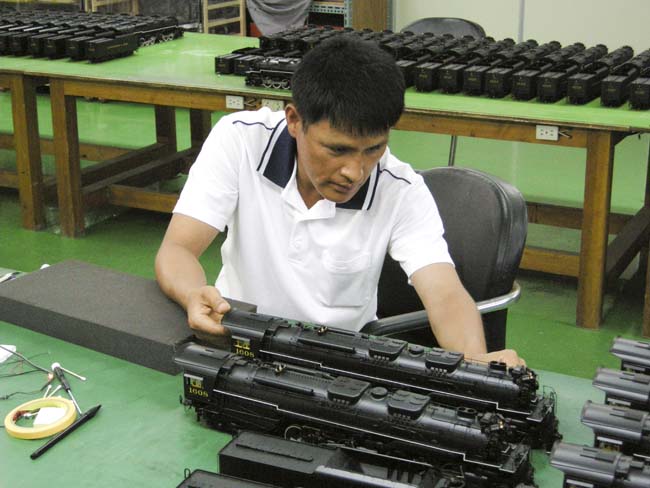 The photos above and below show to of SJ's key workers involved in the final detailing of the models as the inspection proceeds. It is a very tedious, but necessary process and this effort is only a part of what distinguishes our models from all the others produced.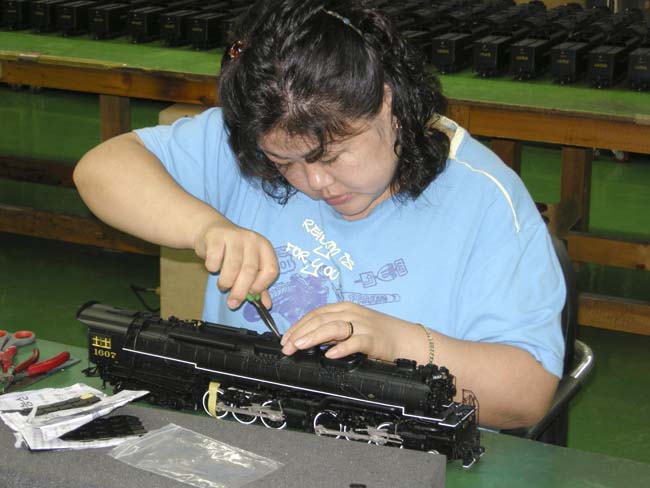 7/25/07 - The long awaited photos of our painted H-8/AG models will be posted shortly, they are being processed as of this writing for posting to the project site. The first of the photos can be seen on the site home page as well as on the project site home page. Stay tuned, there are more coming......finally! The final statements have been mailed to every reservation holder at this point, whether there is a balance due or not. A special thank you to all of you that have made your final payments prior to the final request going out, your extra level of support is greatly appreciated.
7/01/07 - The project is complete!! With great pleasure we announce the completion of our H-8 Allegheny project, the models are done and only await final inspection which will take place in the next few days. We appreciate the patience of all of our reservation holders and feel certain that the end results of our efforts will justify the time we have taken to wrap up all of the final details. We will be posting lots and lots of photos in the coming days, but if you have a reservation you will not have to rely on photos much longer!
6/13/07 - Just a brief update for the moment; the Allegheny project will be completed in two weeks! Following a thorough inspection in Korea the models will be shipped to our shop and then shipped to individual customers. A more complete update will be offered shortly as time allows, we have many new photos to post and that will be accomplished as quickly as possible. Final notices will be going out by week's end. Check back soon!
3/04/07 - As this project moves closer to completion with only about thirty (30) days to go, we are finally getting caught up on our related paperwork for this project. The latest project update has been mailed without further delay to all of our reservation holders and also included was an updated individual financial statement. As mentioned in the update, it is the reservation holders option at this point to pay the balance owing now or wait until the final notices go out, as always, we will ship the models in the order we receive the final payments. We are trying very hard to arrange the payment schedules as 'loosely' as possible because we have so many projects running now and we are about to start the reservation process for our Union Pacific Challenger project. We do not take lightly the financial commitment our reservation holders make when signing up for one of our projects so we do try to spread the load as best we can.
We are extremely proud of our effort on this project and the results will reflect the commitment we made to getting it right, the research completed was the most extensive for any of our projects to date. We will be posting more photos very soon and we will also be showing the latest pre-production samples at the upcoming shows. More to come soon.....................!
1/22/07 - For all of our reservation holders for this project, the long promised project update is being mailed this week along with updated account statements for this project. We are getting very close to the completion of production so it's time to finally get all of the 'paperwork' in order. Quite frankly we have been concentrating on getting the final details ironed out and included on the production models and that has proven to be a monumental effort because of all the detail that has been added. The patience of our reservation holders has always made the difference in allowing us to make a maximum effort in delivering the finest models possible, when the final 'Allegheny' models are delivered it will be quite evident what we have been up to. We have always lamented the few hours there are in the day and night and if we could only find a few more it would sure help! A final note for this posting; there will be a special thank you included in the project update mailing for our reservation holders, it should help to more fully understand and appreciate the history behind one of the finest locomotive prototypes ever operated. Photos of the painted sample models will be posted very soon so check back regularly.
12/31/06 - Some new photos have been added to the sample model photo pages so be sure to check them out. We will continue to add photos of the construction process up until the production models are available for the final series of photos.
12/03/06 - You will probably be happy to know that we have posted approximately forty new photos of sample models that were used for our correction process, these were the models exhibited at the most recent shows. Keep in mind when viewing them that everything that you will see is not totally correct and we are aware of that fact. Our intent is to show the level of detail that we are modeling and to explain what the process of creating our historic miniatures is all about. As previously mentioned, Mr. Jerry Ballard has been our guiding light on this project, but we have also evaluated comments and suggestions from many other individuals as we have traveled the country doing shows and pursuing our research. The research on this project has gotten down literally to the nut and bolt level and it has been extremely time consuming and costly, but what we will deliver is going to be one of the finest and most accurate models of any scale ever offered at any price let alone the $4,650 value that we committed to. The patience and dedication that Mr. Lee our builder at S.J. Models has shown is again to be commended, there is no way that we could afford to pursue the development of this project if it was handled as any other builder would do, Mr. Lee's dedication to excellence is without peer. We feel that we have again been given a unique opportunity to pursue a project to our anal extremes and we greatly appreciate it.
We also should mention that the promised customer update has been processed and it had been held back briefing for developing news on the project. If you are a reservation holder you will be seeing the update shortly. There is more news and information to come on this project and it will be posted shortly after we recover from processing the latest forty new pages! on this site and the forty we just added to the PRR K-4 project site. We appreciate the patience of all of you that have been waiting for these latest photos. We have been totally consumed with the development of projects so it has taken a bit to get back to the promotion side of things.
11/01/06 - The long overdue project update for this project has been printed and is being mailed out this week. We will be posting all of the new photos and data once our reservation holders have a chance to review the material they receive in the mailed update. We feel that it is only fair that our reservation holders have the first opportunity to see the latest information first. New information will be posted here very soon! FINALLY!! I can tell you for sure that this project is our most exhaustingly researched and reviewed project to date and the resulting models will reflect that effort and caring.
6/26/06 - We have a couple of notes of importance to pass along regarding our Allegheny project; we are awaiting the arrival of the pre-production sample model that will be shown at our upcoming shows beginning with the NMRA National Train Show. Upon arrival of the sample we will be preparing another customer update that will be mailed to all of our reservation holders. We also have a number of photos showing the production work that has been going on during the last couple of months, as we begin to attempt to catch up on 'things' we will be posting those photos to this project site.
Legally required public notice: We have reached the point in the Allegheny production when we have to determine which model orders will be completed; for orders where the required incremental payment has not been made or alternate arrangements have not been made with us directly, we can not justify the completion of that order and it will not be pushed forward to final production.
5/28/06 - Shown below is a rendered view of the driver design for this project. The Allegheny class locomotives utilize a very intricate driver design, at first glance they may appear simple and straight forward, but they are far from it. Mr. Lee met the challenge presented and the drivers will be a very special part of this project. We have posted the first project update to the 'download' page for all to view, this update was already sent to all reservation holders for this project several weeks ago. A lot has happened since our last mail update and another is in the works and will be mailed out in the next couple of weeks. We will be posting new construction photos of the main production in the next few days and we will also be sharing some of the research that we have been doing.

3/14/06 - The Project update mailing is underway so all of our reservation holders will be seeing it soon, the update will include the installment payment request. We will be doing a major update on this project in this location shortly so be sure to check back regularly for the latest information.
2/20/06 - The first major project update for our H-8 project is in process now and should be complete by the end of the week. The four page color brochure will be going out to all of our reservation holders and will include many detail photos and an abundance of development information. Final corrections are near completion as of this writing and production components have already begun to be produced. Detail photos will be posted to this site as soon as time allows so check back regularly.
2/06/06 - The H-8 sample has created quite a stir at the Nurnberg Toy Fair, it is being featured in our booth throughout the length of the show. While on exhibit the corrections are continuing so we lose as little time as possible due to the show. All of the detail photos will be posted as soon as we return mid-week.
1/22/06 - The sample model has arrived and the first couple of photos have been posted tot he project site. Even though this is a first sample, based on what we are seeing at this point, our H-8 will be absolutely exquisite in every detail. The size alone is staggering, we hope to do some comparison shots with previous models that we have done to give some perspective to just how large a locomotive the H-8 really was. Once we have the K-4 production photos completed we'll be doing a full coverage shoot of the H-8 sample and will include a large number of photos in the long awaited H-8 project update that will be mailed to all of our reservation holders. Once the project update is completed we'll post a large selection of photos to this project site.
The corrections have already begun and we'll be pushing to complete them as quickly as possible so we can get the project into the final production phase. Production parts and components are already being made and we hope to have all of the corrections completed by the time we return from the Nurnberg Toy Fair where the sample model will be featured along side an assortment of K-4 models. We hope to be posting additional information very soon.
1/10/06 - We are way behind in our updates on our Allegheny project, but that doesn't mean we have not been working on it. The arrival of the sample model is a bit behind due to having just completed our 'Pennsy' N5c's and the K-4 project, but it is on the way to our shop as of this writing. As soon as the sample is here we'll be doing a dedicated update mailing for all of our reservation holders complete will color photos. The Allegheny sample will be highlighted in our booth at the Nurnberg Toy Fair which is coming up early in February. We'll be reporting on this project in much greater detail once the sample as at hand, everyone wants photos and not words!
9/29/05 - The reservation confirmations for all orders up to this date have been mailed...........finally! We apologize to those of you that have placed an order for one of our Allegheny class locomotives, we have been running hard to trying to keep up with production issues on three (3) projects, researching our new projects, plus getting to as many shows as possible. This is the fastest selling project that we have offered to date with orders coming in from twelve countries. Reservations have almost reached a closed status.
More information regarding this project will be posted shortly.
9/01/05 - As we have indicated in our general update, our non-productive activities have been heavily impacted by our support responsibilities for our projects in process. We are working hard at the moment to get the reservation confirmations out to everyone that has placed an order for one of our 'Allegheny' class models. If you are a new reservation holder for this project your patience is greatly appreciated. This project too is moving very quickly and we'll be updating the status near term.
7/25/05 - It has been just about three weeks since the reservation information was mailed for this project and we felt that a progress report was appropriate at this time. In short, this has been the fastest launch for any project we have done to date, with approximately two thirds of the planned production already spoken for. As reservation slots open up to new customers the remaining models available will go quickly, our hope is that our existing customers will not be disappointed as a result of procrastination. More regular updates will begin shortly so all that are interested will be able to closely track the development of this project. Be sure to check back frequently for the latest information.
We have begun working on the reservation confirmation letters and the first batch will be in the mail by the end of this week. Many thanks to all of you that have already ordered, be assured that we will be working hard to deliver the best project possible for you!
7/04/05 - Just a brief update to announce that the reservation brochures and forms are in the mail and on their way to all existing customers. The mailing to all list members with an expressed interest in our 'Allegheny' project will commence near term so the wait is almost over, we thank you all for your patience! It has been very important for us to have all factors considered prior to the launch as our projects are beginning to move quickly and we need the ability to respond appropriately in the decision making process, a certain foundation for the project will assure it's success.
6/22/05 - The business details of this project are now finalized and this will allow us to move forward with the reservation process. The brochures and order forms have been printed and are being processed for mailing as this is written, we will advise all of the exact date this material is mailed to minimize the anticipation and uncertainty. Specific version detail information will be posted to the project site shortly so you will be able to see exactly what versions and variations are being offered. Our thanks goes out to all of you that have contacted us about placing an order, your patience is greatly appreciated. Because we are trying our best to hold prices down it has become increasingly more important that we have all of the dollars and cents details ironed out before we commit to pricing.. Project expenses are certainly escalating in Korea and just as we work to maximize our modeling efforts we work extremely hard to find ways to save costs and pass that savings along to our clients. More information will be posted soon.
4/26/05 - Just a brief update regarding the reservation process on this project. In consideration of those customers who have just had an expense associated with the purchase of one of our other projects and of course IRS time, we have held off a bit in starting the process. We will begin the H-8 reservations early in May, off course starting with our existing customers first, followed by a mailing to all of you that have expressed an interest in this project. We will be posting more information on this project very soon. We do anticipate the introduction of the first sample model for our H-8 at the NMRA National Train Show to be held in Cincinnati in July.
3/31/05 - The reservation information for this project is currently being printed. As soon as we have assembled all of the appropriate information, the reservation mailing will begin. As usual, our existing customers will be the first to receive the reservation offering, followed by those individuals that are not customers, but that have expressed an interest in purchasing one of these models. The planned production quantity is small and the demand is great for this project so regardless of whether you are currently a customer or not, you will need to respond quickly to the offering. We expect the mailing to begin in a week to ten days.
3/07/05 - We are currently preparing the offering information so we will be able to start the reservation process at the end of this month. Our production plan currently includes three versions including the Virginian 'AG' with only fifty (50) of the basic H-8 version be constructed, the final decision regarding versions will be made after we see the results of the reservation process, some adjustment may be required based on demand. Despite the overwhelming demand, the production quantity needs to be kept realistic in order to maintain quality especially considering some of the new and special features that will be included in this project. We have meticulously kept track of all of you that have requested to be included in the offering mailings, if you have not done so yet, let us know of your interest so you too can be included.
7/07/04 - As we approach the conclusion of our Union Pacific 4-12-2 project, we are beginning to gear up for the H-8/AG reservation process which we are now anticipating getting under way late in August or early September. We will be adjusting our approach to the reservation process a bit to get future owners involved in the development process sooner so we can eliminate more of our design/development guesswork while targeting exactly what future owners are looking for in the model. The design is better than half way complete at this point so we are anxious for direct qualified input from those interested in acquiring one of the models. There will be more information presented on this project in the upcoming mail update which should be going out in approximately two weeks. If this is a project of interest to you, please be prepared to tell us in exacting terms what you would like to see incorporated into the production models.
2/15/04 - Our development on this project continues and our progress has been substantial. When we started we had over 400 original design tracings and 300 builders photographs to work from, we are in the process of acquiring another 150 tracings and approximately 80 new builders photos, our reference material for this project is extremely comprehensive. As we have worked through these material we have found new types of detail to model so the stage is set for us to further advance our technical capabilities. If there is a particular feature that you would like to see modeled please pass along your thoughts and ideas for us to consider.
11/23/03 - We have received the first of the reviews of previous efforts on this prototype and are taking each and every point raised into consideration as we move forward with our project development. In a future update we will begin to share some of the points of interest in an effort to solicit further feedback on our design. Unfortunately, we have learned that again one of our competitors has made the decision to move forward on the same project, as a result we will have to be careful not to design their project for them as they have copied from us extensively on their current project.
10/08/03 - We mentioned in our most recent general news update that we have a number of deadly serious modelers that are intent on seeing some of their favorite prototypes correctly modeled. We are particularly excited by the level of interest expressed by several of the most serious and knowledgeable that want to assist in developing this project. Extensive reviews have been prepared documenting the mistakes of the past so we will have no excuses for not getting it right! The feedback thus far regarding the direction we are heading in terms of versions is very positive, what we are choosing to do is certainly more difficult to do correctly, but we believe these will certainly be the most interesting of the possibilities. In the coming weeks the updates will be more frequent and we certainly want your feedback if this is a project of interest to you.
7/28/03 - As of this date, we anticipate the reservation process starting early in 2004. We are very excited about the versions under development and the special detail they will offer. As we move forward from this point the updates will become more frequent as we solicit feedback on our plans. The latest idea under consideration is to offer an auxiliary water tender for our Virginian 'AG' version, there were actually two different classes of 'A' tanks used on the road. If you're someone that is interested in the 'AG' version and this is an appealing idea, please let us know, that will make the decision making process much easier and more certain.
4/3/02 - This project has a new position in our schedule and if all goes well, will be produced next year.
12/17/01 - This project may be moved up in our schedule for reasons explained in our update of the C&O K-3 project of this date, please refer to that update for further details. LINK