Availability: This project is currently under development, reservations will be taken starting at a date to be announced. If you are a current customer you will automatically receive the announcement materials. If you are not a current customer and are interested in this project, please let me know so that I can forward material to you when available, get in touch with me using any means listed in the contact information.
Price: TBD
Versions Offered: TBD
Production Quantity: 100
5/19/18 - Final decisions regarding project placement using multiple builders now for our projects will be coming very soon. Following the latest planned visit overseas, there should be little left to resolve. This and several other projects are included in the discussions. I am hopeful to finally have a workable plan to deliver projects at a more reasonable pace.
Please stay tuned!
3/21/18 - As another of our Union Pacific locomotive projects moves toward completion, our Big Boy, and an influx of new data, it's time to continue the planning for the production of our Union Pacific caboose project. The decision has been made to model both the CA-3 and CA-4 versions for this project since they are nearly identical, with the primary difference being the builders. The CA-3 class cabs were built by the Mt. Vernon shops and the CA-4 by Pullman. Information regarding paint and lettering schemes will be updated very soon.
2/23/15 - As the active development of this project moves closer, basic decisions had to be made regarding the versions of Union Pacific cabooses that should be researched in more complete detail. Based on their most appropriate application for the time period related to the locomotive prototypes that are modeling subjects, the CA-3 class is the best starting point for the further development. I had previously considered the CA-1 wooden class for this project, but perhaps that can be the subject for a later separate project. As this project moves forward, I'll be considering the paint schemes and mechanical variations that should be included in the production as well as the possible inclusion of the later CA-4 and CA-5 classes which would extend the service period of this projects subjects. Your ideas and suggestions are certainly welcome.
2/11/13 - The Union Pacific project will definitely be the next in line for our caboose projects, it will follow as closely behind the C&O project as possible. Every effort is being made at this point to try and catch up for lost time as a result of all the various issues that have impeded our project efforts. There seems to be a very strong preference for the CA-1 version or versions and it has yet to be determined if the CA-3 will be included in the overall project. Stay tuned for more details as they will hopefully be coming very soon.
9/07/10 - While at the National Narrow Gauge Convention in St. Louis, I took the opportunity to 'run' over to Belton, Missouri where the Belton, Grandview & Kansas City Railroad has a preserved Union Pacific CA-1 caboose in their collection. Although not restored, the 'cab' was in nice original condition with only the roof and smoke jack being modified. This was a great resource for confirming design information and filling in a couple of data holes. If you're interested in more information regarding the BG&KCRR, they do have a web site, click Here.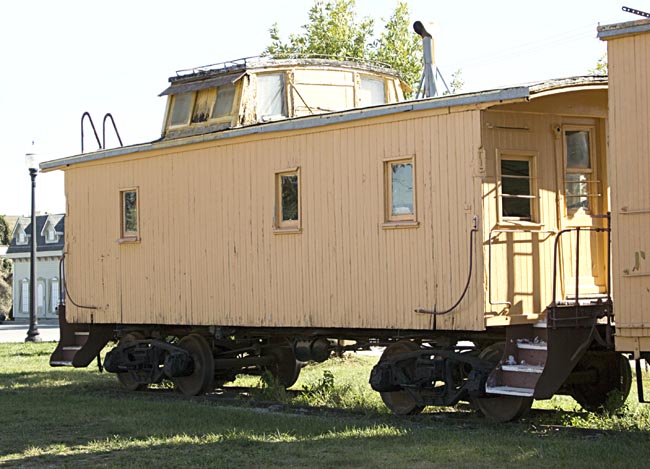 8/28/10 - I have already received a great deal of feedback regarding our UP caboose project, including the photos below provided by one of my great supporters, Muncel Chang from Portola, California. The photos of the CA-3 were taken in the Western Pacific Railroad Museum located in Portola. Muncel indicated that the caboose appeared to be complete and in good condition aside from the paint, he also said that restoration plans are already in place. As I have always said, the more photos the better, regardless of condition, because you never know what reference detail may be gleaned from the available material. Many thanks to Muncel for taking the time to head over to the museum to shoot the photos for us to share.
I do not want to comment on the feedback received so far in fear of skewing the results. I'll give it some more time and will then let everyone know what direction the interest is heading. Thank you to everyone that has taken the time already to weigh in on my request!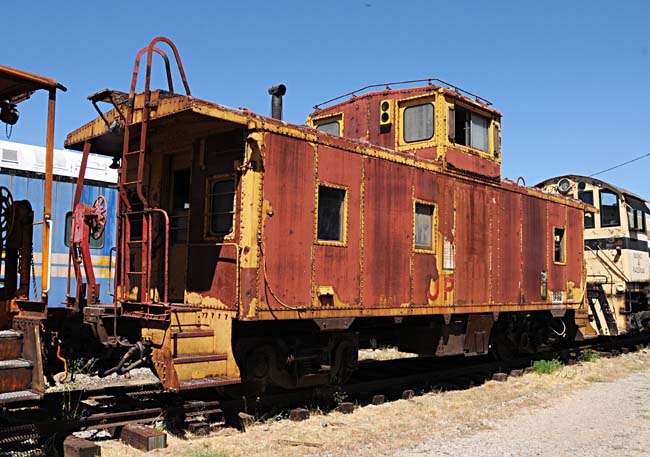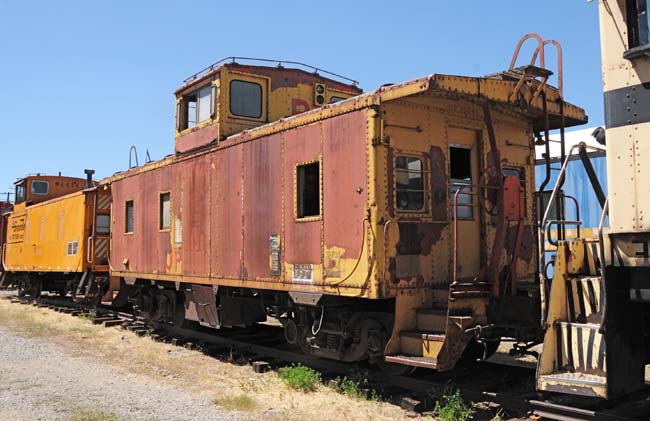 8/22/10 - Although I have already collected a great deal of reference material for the CA-1 class cabooses, a research trip has been planned to document a preserved prototype next month. Kansas City, Missouri will be the destination, hopefully I will bring back some interesting photos to share on this new project site.
8/20/10 - At this stage of our project development our first order of business is to narrow the prototype selections that we will be modeling. The basic information for two versions has been provided on the project information page and I would like to solicit feedback regarding which version is most desirable as a subject for our project, the CA-1 class wooden caboose or the CA-3 class steel caboose. If there is enough support for both versions, it may be possible to produce both as I did with the Norfolk & Western cabooses. Additional prototype information will be provided in due course.